Cricket Scotland has recently announced our annual awards evening will take place on Friday 7th February 2020 at The Village Hotel in Edinburgh. The evening will give guests the opportunity to celebrate the 2019 season, both on and off the pitch, where attendees will have the chance to mingle with our national team players as we revisit the highs of the 2019 cricket season covering the domestic, regional and international game!
We are pleased to add 5 new participation awards for this year and are now welcoming our clubs to submit applications. Our new awards are;
Communication Award
The Equality, Diversity & Inclusion Award
Volunteer of the Year
Young Volunteer of the Year (under 25)
Ground & Facilities Award
Clubs have until 23rd January at 1pm to submit their nomination(s).
chris
Dec 10 2019 - 5:39pm
For your Urgent Action
Dear Club CPO and Club Secretary,
(Association/Union Secretaries for info)
Please see the following from Colin McDougall the Cricket Scotland Child Protection Officer.
Colin is arranging courses in all of the regions to provide guidance and support around the CS CWPP policy as follows (more details below):
21st January 2020: Aberdeenshire Sport Aberdeen, Broadfold House, Broadfold Road, Aberdeen, AB23 8EE, Conference Room 1 7pm to 8.30 pm
CRICKET SCOTLAND CLUB CHILD WELLBEING AND PROTECTION POLICY
As you may be aware, clubs have been mandated by the Board of Cricket Scotland to adopt and implement the above policy. To date 75% of clubs have formally adopted the policy and begun the implementation process. Feedback from clubs has been noted and it is clear that some assistance and clarification is required. Given that compliance with the policy will be a condition of membership of Cricket Scotland, support to clubs will be provided through a number Regional based meetings.
chris
Dec 9 2019 - 6:04pm
Inverurie lost one of its finest when Kenny Gibb passed away suddenly at home at the age of 59. He had become a grandfather earlier this year.
Kenny took up the game as a junior and played until the Nineties. He then went on to become a qualified basketball coach and was heavily involved in promoting sport to local youngsters.
He was a talented outswing bowler and hard-hitting batsman capable of turning a game. He was a committed competitor, and a larger than life character who was great fun to be around.

He will be remembered with affection.
chris
Dec 9 2019 - 11:33am
307 reads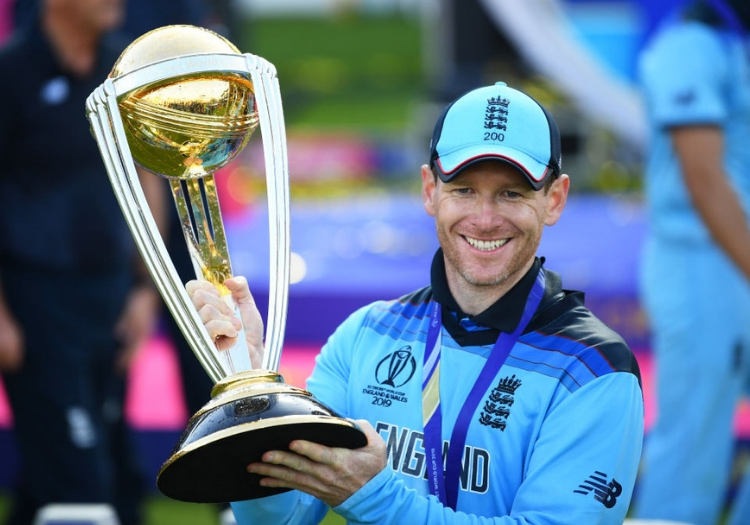 Taking place on Friday 13 and Saturday 14 December at Aberdeen Sports Village, this two day event will offer local people the chance to try out a variety of sports.
The Festival of Sport will first open its doors to local primary and secondary school children on Friday 13 December. They will have the opportunity to take part in all of the sports available, as well as other activities such as Q&As with sporting heroes, a CBBC's Jamie Johnson 5-A-Side Challenge and much more.
The doors will then open again on Saturday 14 December to the general public for a full day of programming dedicated to family fun.
Alongside the wide range of sporting activities, Saturday's programme will also offer the chance to be in the audience for Q&A discussions with Manchester United and Aberdeen legend Denis Law, decorated Paralympian Tanni Grey-Thompson, as well as a cricket masterclass with Eoin Morgan.
https://www.bbc.co.uk/showsandtours/shows/festival-of-sport-14dec19-eoin-morgan#
chris
Dec 9 2019 - 11:29am
118 reads
It is with great sadness that we are letting you know that Gordon Barron, passed away peacefully in ARI (aged 90) on Wednesday 20th November after a short illness. Gordon joined Stoneywood CC in 1970 aged 41 and helped win the Aberdeenshire Cup in his first three seasons at Peoples Park. Gordon began his involvement with cricket in his hometown of Inverurie in the 1940s and after marrying a Culter quine in the mid-50s moved to Cults CC. He was primarily a batsman; with a career high of 92 achieved v Boddam CC in Grade One in the early-60s.
After a few more seasons with Stoneywood in the 1st XI in G1, Gordon stepped down to join son (Alan) in the 2nd XI in the Reserve Grade – selection for that side often being based on who had a car to transport the young side to away fixtures. The highlight of their time together in the 2nd XI being when both took five wicket hauls v Balmoral at DP2 in the Reserve Grade.
His final playing season was 1975 after which he and his wife followed Stoneywood games involving Alan. Gordon was someone who fully embraced the introduction of the SCU Small Clubs Cup in the mid-80s and became Club President in the late-80s.
He then helped push through the amalgamation of Stoneywood & Dyce CCs with the Club winning the afore-mentioned Small Clubs Cup in the final year of his Presidency in 1991. He continued to attend games Alan played in for many years; being especially supportive of a burgeoning junior set-up. Whilst his attendance at matches tailed off he still kept abreast of the development of local youngsters and was rightly proud of the full international recognition for home-grown talents Stuart Coetzer, Kyle Coetzer, Gordon Goudie, Fiona Urquhart and Michael Leask.
His funeral will take place at 1345 on
chris
Nov 25 2019 - 10:46am
Photos taken from the Dinner by Gilles Gardner are available at the link below.
https://www.flickr.com/gp/gillesgardner/D51314
chris
Nov 19 2019 - 12:59pm
271 reads
Members of the local cricketing community will have been sorry to learn of the recent death of Rye Cope, President of the ACA in the seasons 1979 and 1980, and subsequently its Honorary President until the Association's replacement by the NE Scotland Cricket SCIO earlier this year.
Son of a former Secretary of the Association, Rye will be remembered principally within the Grades as a key batman and bowler and tigerish close fielder for St Ronald, of whom he served as captain over a number of spells, including agreeing to resume the role with the club on the verge of extinction following its rapid fall from Grade 1 to Grade 3 after the loss or retirement of a number of key players at the end of the 1970s. As Association Vice President he was also responsible for the recruitment at that time of David Jones, the club's second-team scorer, to succeed Joe Scott as Association Secretary, a role he went on to fulfil for 40 seasons – ignoring Rye's almost certainly sensible advice that the role was one he might wish to decline.
As the attached eulogy delivered at his funeral, at which the President, Martin Auld, and Cricket Scotland ACA Board Member, Ian Stephen, formally represented the Association, Rye's sporting interests and participation went far wider than cricket, including Highland League football, rugby and golf. A sporting polymath – without doubt – who threw himself without reservation into all the activities in which he either participated or supported.
We join in commemorating his long and fruitful life, and join in offering our own condolences to his family and friends at this sad time.
On behalf of the NE Scotland Cricket SCIO Trustees
David M Jones
Secretary Emeritus, Aberdeenshire Cricket Association
Rye Cope 1926 -2019
The term 'Legend' has, within 'Shire, been used somewhat too freely in recent times, however it is with regret that we should acknowledge the passing of a real 'Shire Legend and true gentleman, Rye Cope.
chris
Nov 19 2019 - 11:33am
We have signed photos of the following players up for grabs at the dinner Sachin Tendulkar, Lasith Malinga, Ben Stokes and Jimmy Anderson. If you are unable to attend the dinner and would like to bid for one of these items please send the bid to ian.c.stephen@aberdeenshire.gov.uk
chris
Oct 30 2019 - 3:39pm
391 reads
Please contact anthonymckenna@cricketscotland.com if you have any further questions
chris
Oct 21 2019 - 8:44am
454 reads